25 August 2020
How shared ownership made one family's buying dream come true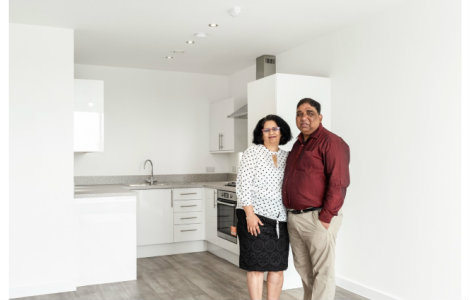 After moving to London from India and renting in West London suburb Southall, Janice, 52, wanted to find a place for her family to call their own. Knowing they would be unable to purchase a home outright, she researched the property market extensively until she came across the government's shared ownership scheme.
"When we first came to the UK, my husband and I agreed that after three years of renting we would start searching for a place to buy. It didn't make sense to continue paying such a huge chunk of our pay checks on rent as that was just money going down the drain. On our budget, buying a property in full was not an option, so we were thrilled when we came across the shared ownership scheme."
Janice, a library manager, and her husband, Francisco, an immigration worker, saw several developments across West London before discovering their dream home was right on their doorstep – a 2-bedroom apartment in Octavia's Witley Wharf scheme.
"As soon as I walked in, it met all my expectations and requirements. I had this gut feeling, the type you get when you step into a home and you know it's the right one for you. The layout was perfect, and I could immediately picture us living there. We had seen seven or eight places by this point and none of them quite matched what we were looking for. This flat changed everything."
With many local friends and connections in the neighbourhood, Janice and her family were keen to settle down in an area that had grown familiar to them. Valuing Southall's vibrant character, they appreciate its sense of community and rich mix of local amenities.
"My husband came to the UK five years ago and initially rented a place right next to Witley Wharf. The rest of the family and I moved here four years ago, and we have been renting in Southall, five minutes from our new home, ever since. When I first found this development, I thought to myself – this is it, this is what we have been searching for. By this point, we had looked at places in Hayes, Hounslow and everywhere in between, but we always knew that staying in Southall was the ideal outcome for us. We've got to know the area really well and it has everything we need - great independent shops, an active church, a GP surgery and, most importantly, a good network of local friends. We didn't want to have to start afresh in an area we had never lived in."
As first-time buyers in a new country, Janice appreciated the tailored assistance provided by Octavia at each step of her buying journey.
"The sales process was 10/10. Octavia provided support at every stage and communication between each person in the chain was excellent. Before our viewing, we weren't sure what share we wanted to buy and how far our money would stretch. Octavia put us in touch with a financial advisor who worked everything out for us. This made the finance side of things much easier, reducing any worry on our end."
Buying a home can be stressful no matter what the circumstance, but the reigning uncertainty sparked by the pandemic has compounded this stress for many. While the fear of the unknown was distressing for Janice, regular contact from Octavia helped to allay her concerns.
"I always knew I could count on Octavia's sales team to respond. I could write an email and expect a reply. I could leave a message and know that they would call me back. We had just started planning for our dream home and we were worried that this dream was going to be shattered. I knew that Octavia wouldn't be able to provide all the answers due to the unprecedented nature of the pandemic, but the reassurances we received during the crisis definitely helped us to stay positive."
With Crossrail closing the gap between Southall and central London, this western suburb is set to become a commuter-friendly transport hub. Janice looks forward to her family reaping the benefits of these great connections.
"My husband works in Hounslow and my sons go to university at Brunel and Goldsmiths so these new transport links will be very convenient for them. It's great to know that once Mark and Krishnan graduate, they will be able to look at any job in the city without having to worry about distance."
And now Janice has moved into her new abode, is she just as pleased?
"I'm absolutely elated with our new home, particularly with the layout. The open plan living area is spacious and opens out onto a small terrace that is perfect for my plants. Having a second bathroom is also great – I don't miss us fighting over our old one.
It was an amazing feeling to have dinner in our new home for the first-time last night. In our previous place, we had a separate sitting room and kitchen which led to a feeling of disconnect between the family. I work long hours and when I arrive home, I'm always rushing to cook dinner for everyone. It makes a real difference being able to prepare a meal in our kitchen and chat to my husband or children. I'm also enjoying having my evening tea on the balcony whilst I watch the clouds float by, as it reinforces this feeling of gratitude and bliss."
The properties at Witley Wharf have now all sold but we still have a fantastic range of homes available via shared ownership. View them here.