8 September 2020
"It's like we've won the lottery"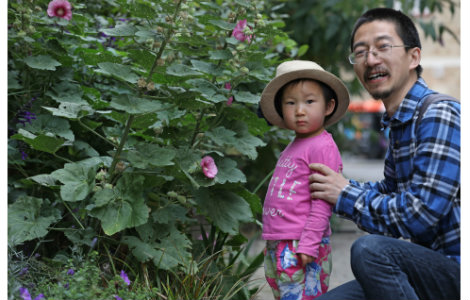 A research manager at Imperial College, Yingqi and his family have been living in their home, a two bedroom flat in Octavia's award-winning Sulgrave Gardens development in west London for six years.
Moving from China to the UK and settling in Hammersmith, Yingqi did not think it would be possible to stay in this well sought after, Zone 2 location.
"We moved to London in 2007 and initially rented in Wandsworth before moving to Hammersmith in 2010. Looking for a place to buy, we were hoping to remain in the same area as our children go to school here. Having moved around a lot in a short space of time, we did not want to uproot them all over again. At the start of our buying journey, it didn't seem like this would be possible, so we widened our search, looking at places further and further out of central London. Despite broadening our parameters, we were still finding that everywhere was too expensive for us."
On the verge of ruling out this pricey west London suburb, Yingqi's wife, Ping, discovered the, then new, shared ownership homes available at Octavia's Sulgrave Gardens. The scheme provides an affordable way into homeownership for people who may otherwise find it difficult to get on the property ladder in London.
"We are really grateful to Octavia for providing this offer in such a central and convenient spot. Shared ownership meant we could live in an affordable home in a great location and this scheme was the only way we were able to do this. People always say to us, "it's like you've won the lottery" as we haven't had to sacrifice or compromise on anything. The development also has a real neighbourhood feel to it, everyone is very friendly and nice, which is a real plus."
With Sulgrave homes boasting a sophisticated specification and sleek finish, Yingqi was grateful for the ease and convenience that came with buying a new build.
"We are very happy with everything – the flat came fully decorated and with brand new fixtures, fittings and white goods. It was great to be able to move in straight away without having to spend money on refurbishing and redecorating. This kept moving costs down as all that was needed was some essential furniture."
Completed in September 2013, Sulgrave Gardens adheres to Passivhaus standards – a building design that is truly energy efficient, affordable and ecological, all at the same time. An exemplar model for the UK building industry, this scheme is one of the first mixed-tenure Passivhaus developments in the UK and one of the first Passivhaus schemes to be set in a city context. A combination of super insulation, minimized thermal bridging and triple glazing are some of the features that result in the properties saving up to 90% of standard heating bills for residents.
"The design of our home means that it is easy to keep energy bills down as we very rarely need to turn on the heating, even in the winter, " said Yingqi. "The fact that this sustainable model reduces our energy costs and carbon footprint at the same time is a win-win situation."
The properties at Sulgrave Gardens have all sold but we still have a fantastic range of homes available via Shared Ownership. View them here.