18 March 2014
Family finds sanctuary in their new 'PASSIVHAUS'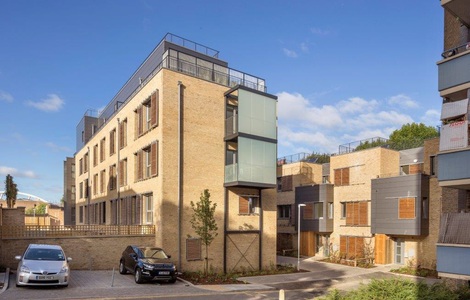 After many years living in a two bedroom property in Notting Hill, Mr Jordi Blanes (39) & Ms Jubilee Easo (38) and their two young daughters Aitana and Rahael upsized to a larger family home, believing that a new build really is best. They now couldn't be happier in one of Octavia Living's 'Passivhaus' developments, Sulgrave Gardens in London W6.
Jordi, an associate professor at the London School of Economics explains why the move was so important to his family: "With two young children we had completely outgrown the house we were living in and needed a lot more space. We were also tired of moving every couple of years and wanted a family home where our children could grow up. We began looking in Shepherd's Bush because of the easy commute to work it provides.
We heard about the new homes from Octavia Living and made an appointment to view them back in March last year. We fell in love with the house and the concept of 'Passivhaus' immediately. The house with its four bedrooms afforded us just the right amount of space, which we didn't think we would find in a new build. We thought the finish was great on the house, with high quality wooden floors, kitchen appliances and bathrooms. The windows are so large that even when the skies are grey, we seem to have lots of light in the house.

We've now been in our new home for a couple of months and cannot get over just how perfect it is for us" said Jubilee, a partner in a city law firm. "It is just great to have all this additional space! Our girls love our garden and the fact that they have their own playhouse. It also gives us great pleasure and satisfaction that living in a passivhaus means that the ecological footprint of our family will be less than it would have been otherwise. This winter we have only had the heating on for three hours a day and even this seems too much, it's so warm.
Sulgrave Gardens comprises of flats, maisonettes and houses built using Passivhaus principles, which make use of the most innovative methods of construction to produce sustainable homes. An exemplar model for the UK building industry, this scheme is one of the first mixed-tenure Passivhaus developments in the UK and one of the few Passivhaus schemes to be set in a city context. A combination of super insulation, minimised thermal bridging and triple glazing are some of the features that result in the properties saving up to 90% of standard heating bills for residents.
Private houses are in keeping with the Victorian houses on Sulgrave Road, whilst there is a more contemporary feel to the flats, apartments, and Mews houses, which include a top floor living space which opens on to a large private terrace.
The properties at Sulgrave Gardens have now all sold. Other similar properties include Elizabeth House in Wembley which have the last remaining units for private sale including include apartments with prices ranging from £203,500 to £319,500. Shared ownership homes are now available from £46,250. The bright contemporary apartments are a striking architectural statement overhanging the High Road. Each apartment has a balcony or terrace, many with spectacular views across the Capital, with carefully considered interiors and an impressive commitment to energy standards.
Other developments include Illumina in Wandsworth, an exclusive collection of one and two bedroom apartments in one of London's most desirable locations. Only one bedroom apartment available under the shared ownership scheme remains, with phase two coming later this year. Forming part of the existing Merchant Square development, Octavia Living will soon be bringing further apartments to the market in W2 and more homes in Fitzrovia, W1.
To find out more about Octavia Living and their current projects please call 020 8354 5601 or visit www.octaviahousing.org.uk
For more press information, contact Harriet Edgar at Oracle PR on 020 8394 2821 or harriet@oraclepr.co.uk