12 March 2015
Afforable Rental Provides the 'Quay' to Family's New London Pad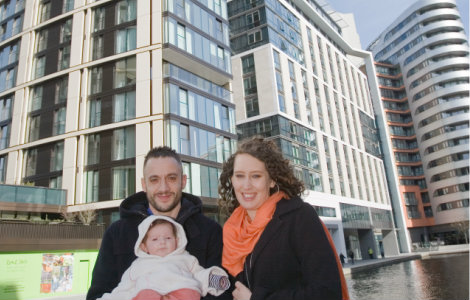 When Felicity Dudley (28) and her partner, Sasan Rokni (33) found out they were expecting their daughter Lily, they needed to move out from their parents homes and find an affordable apartment to rent, fast. With the average monthly rent for a one bedroom property in W2 hitting £1,712 according to London Property Watch, the couple discovered Octavia Living's intermediate rent scheme just in time.
A one bedroom property at Quaywest2 at Merchant House in Paddington Basin is just £220 per week including service charges which means they could rent the same size one bedroom property for half the price. This affordable rent meant that Felicity and Sasan could afford to move out of their parent's homes, but still stay in the local area, which is great news for the young family.
It became my daily chore to search for suitable properties, but nothing was affordable and in our price range. I didn't think we'd be able to move into together until I stumbled across the intermediate rent scheme and saw the properties at QuayWest2 by Octavia Living. After some research, we booked a viewing with Octavia to view the show apartment and it was perfect. We paid our deposit and subsequently moved into our beautiful new apartment just in time for our daughter's arrival


The one and two bedroom apartments at QuayWest2 are set within a sleek, contemporary style new 21-storey apartment building, and occupy elevated positions within the building from the seventh to the 16th floors. The properties have been designed to make the best possible use of the available interior space. The interior specification is outstanding, with designer fitted kitchens, integrated kitchen appliances, contemporary style bathrooms and a combination of contemporary laminate flooring and fitted carpets.
I'm so pleased we discovered Octavia Living's affordable rent scheme. It meant the world to us to have a property of our own and stay in this part of London which we call home


For a stunning one or two bedroom apartment in a great location, available with affordable rent just like Felicity and Sasan's, buyer's should take a look at the currently availability with Octavia Living.
The eligibility criteria for the affordable rent scheme for qualifying applicants must either currently live/work in the London borough of Westminster. For further rent and sales information, please contact the sales team on 0845 473 9701 or visit www.octavialiving.org.uk